Pinterest Discover —
Connecting people to ideas


I worked with both the Explore and Search teams at Pinterest which are both strong drivers of discovering new and existing content.
Explore Tab
PRODUCT – 2016
We dedicated a tab to Explore which showcased the different ways people can use Pinterest by presenting collections of curated content. We partnered with brands and influencers while also experimenting with algorithms to auto-generate collections. This was a huge cross functional effort across multiple teams within Pinterest who I really enjoyed collaborating with.
IDEAS WITHOUT BORDERS
Explore launched globally but we took an extra step and curated localized content for United States, Japan, Germany, Brazil, France and U.K. Our rag-tag international curation teams did a great job researching and finding content from influencers in their specific region.
🇺🇸 🇯🇵 🇩🇪 🇧🇷 🇫🇷 🇬🇧
COLLECTIONS / ARTICLES

We felt an editorial style approach to the interface would feel familiar and be easier to consume. We wanted the experience to feel kinda like a Pinterest magazine... but tailored to you. Another key focus in the early stages was to keep these collections as flexible as possible to accomodate different media types. Once we launched, Explore was also used as a launch pad for our video platform which allowed partners to expand their brand presence.

"like a Pinterest magazine... but tailored to you"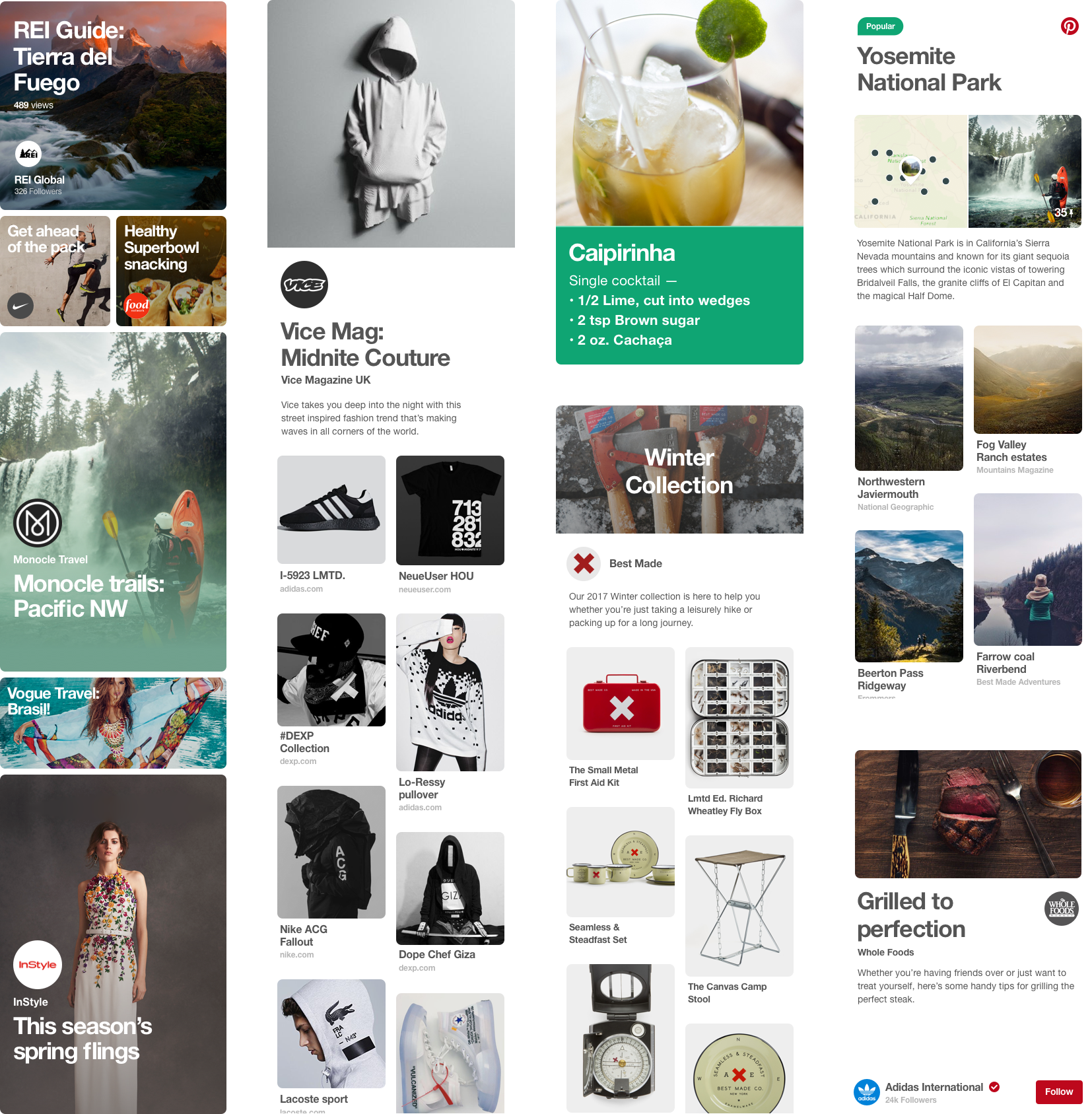 EXPLORE LAUNCH PROMO
* I didn't produce this spot, but consulted on the direction with our Brand team
PRODUCT – 2017

Working on the Search team was really interesting and a very different type of challenge from the visual-heavy Explore project I had previously focused on. Searching on Pinterest is highly visual and discovery oriented in comparison with other search engines so I focused on helping guide users down the "intent funnel" using visual cues and filtering tools.
SKIN TONE FILTERS
I'm particularly excited about helping launch Skin tone filters because it helps people of different ethnicities find ideas specifically for them. As Pinterest continues to grow globally it's important that we empathize with our diverse userbase. There is still a ton of work to be done but I'm really happy with some of the early results (seen below).